We recognize that all our patients are unique and deserve to receive dental care that reflects their individual needs. Our experienced and talented dental team is committed to working with you and your family to create a comfortable, stress-free, and rewarding dental experience every time you visit our practice.
We are pleased to welcome you and your family, and we look forward to working with you.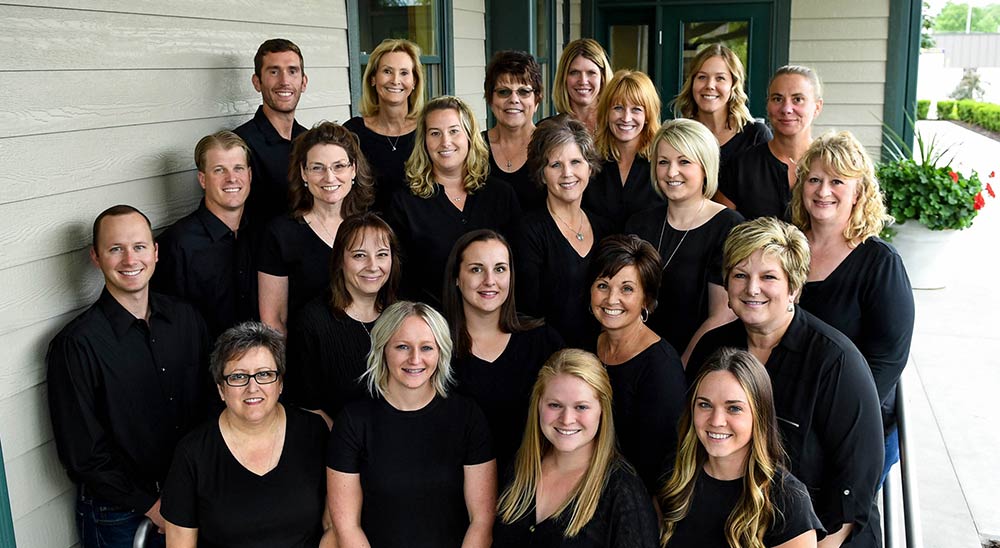 ---
Front Office Team
---
Kris
I am the financial and treatment coordinator at the office. I started my career in 1981, and though I spend most of my time coordinating patient treatment needs, I am also a certified orthodontic assistant. I have been part of this team since 2008, and I enjoy helping patients receive the dental care they need with an affordable treatment plan that is comfortable for them. The doctors really care about our patients and our community. It is a joy to work for quality-minded dentists who truly put others first in both care and consideration.
I have a wonderful daughter in college. I enjoy being outdoors, going to movies, antiquing, and reading.
Sarah
As our financial coordinator and business office associate, I greet and welcome our patients into the practice and make them feel as comfortable as possible throughout their entire time here. I really enjoy getting to know our patients and their families, but I truly appreciate having the opportunity to work with such a great team! It is so nice to come to work for doctors that care so much for their patients, employees, and the community.
I spend as much time as possible outdoors and enjoy gardening, going for walks, and camping with my husband Kirk.
Denise
I've been working as a business office associate here since 2011 and entered the dental field in 1980. I always enjoy seeing new faces and love welcoming our patients to our practice. I like working for our doctors because they are all so professional, caring, and kind to their patients and their staff.
I have two daughters, a son, a grandson, and a granddaughter. I enjoy my involvement in my church and play the piano for services and the choir. I love spending time with my family and watching sporting events on TV.
---
Dental Assisting Team
---
Dena
I have been part of our team since 1991. I work as the sterilization technician and in many other parts of our office. This includes assisting our clinical team and, our front office team and wherever else I am needed. I enjoy seeing our patients when I assist another team member, and enjoy hearing how they have been.
I am a native of Alma, and in my free time, I enjoy spending time with family and friends, reading, walking, watching movies, and spending time with my dog Hazel.
Kim
I am certified dental assistant and started working here in 2001 after entering the field in 1990. I enjoy assisting the doctors and helping our patients achieve healthy, beautiful smiles. All our doctors are very knowledgeable and skilled, and do amazing work with children and adults.
I am a native of St. Louis and love spending time with my husband Scott and our two children, Logan and Liam. In my spare time, I enjoy reading and walking.
Dawn
I'm a registered dental assistant and started working for Dr. Sara in 1996 when I began my career. I love working with all of our patients. Our doctors are kind and understanding and have an outstanding reputation in the community. They are really committed to taking care of our patients.
I live in Breckenridge, am married to Rob, and have two active children named Olivia and Derek. I enjoy camping and flower gardening.
Jamie
I love working at this office because everyone enjoys working together as a team and everyone wants to meet the needs of our patients. I attended a dental assistant program in Lansing in 2011, and began my career in dentistry in 2012. I became a member of this great team in 2013 and love working with all our patients.
I live in Alma, and in my spare time enjoy spending time with my husband, two daughters, and our infant son. We love going to the park, riding bikes, and walking.
Brittany
I attended a dental assisting program in Lansing in August 2012, and began my journey as a dental assistant in 2013. I started at this practice in April 2016. I love it here because our doctors are very committed to provide the best care for our patients and strive to keep them healthy and happy. I enjoy being a part of our hard working team.
In my spare time, I enjoy antiquing, walking my dog Daisy, working out, and spending time with my family and friends.
Heather
I started my career as a dental assistant here in 2016, about a year after entering the dental field. I enjoy getting to know our patients, making them smile, and making sure they are comfortable and have a thorough understanding of their dental needs. All of the doctors here are incredible and strive to provide the latest and greatest dental care to our dental patients. Their commitment to their patients, this practice, and the community is outstanding. I am a strong proponent of teamwork and I truly believe I work alongside one of the best teams.
In my spare time, I enjoy a hot cup of coffee, being outdoors, reading, health and fitness, cooking and baking, and spending quality time with friends and family.
Brittany
Brittany is a dental assistant at Alma Heritage Dentistry. Brittany attended a dental assisting program in Davison Michigan, August 2012 and began her dental assisting career in 2013. Brittany is in the process of becoming a CDA followed by a RDA.
Brittany became a part of our team in April 2019. She has a great love for the dental field with meeting patients and making their experience at our office comfortable, fun and have understanding of their dental needs. Brittany is happy to be a part of such an amazing team who share the same values in patient care and the doctors love and support for their patients, community and their dental team.
When Brittany is not at work she enjoys going to the gym. Going to concerts and seeing new local bands with her husband. Loves spending time with family and friends. Going on adventures, camping, hunting and fishing.
---
Hygiene Team
---
Ileen
I became interested in dentistry while attending high school in Lansing. I graduated from the University of Michigan and later joined the team here in 1996 as a dental hygienist. I look forward each day to seeing the many wonderful people who trust us for their dental needs. It is fun to share in the excitement of a child's loose tooth, or to see someone finish orthodontic treatment. I enjoy being an encouraging dental health coach: answering questions and helping people keep a healthy smile. I love working with our doctors because of their commitment to their patients, and the excellent care they give their patients. The doctors continue to invest in education, to keep us all current, informed, and skilled.
I enjoy scenic road trips and walks, photography, reading, learning new things, girls' lunches, and spending time with my family.
Krysti
I'm a registered dental hygienist who started working for this office in 2004 after graduating from Grand Rapids Community College. I love working with my fellow staff members because they are like family. I also enjoy meeting new patients and getting to know them. I have been a hygienist at this practice for more than ten years, and I can't imagine wanting to work elsewhere. The doctors are great with the patients and provide the best and most up-to-date care available.
I am married and live in the Edmore area with our four wonderful children. I enjoy movies, camping, and spending time with my family.
Cindy
I am a registered dental hygienist who has been working here since 1991. My favorite parts of my job are the people I meet every day and the rapport I have established with my patients over the years. Our doctors provide such quality and care for each patient. They strive for the best, and research the latest materials and technologies. They care about the well-being of everyone, including the staff, and treat us all like family.
I am a graduate of Delta College, an Alma native, and have two children, Brandon and Joshua. I enjoy spending time with my family and gardening.
Kim M.
I started working in the dental field in 2009 and came here a year later. Working with patients to help them achieve their goals for oral health is what I love best. Our doctors practice the highest quality of care and standards, and are extremely dedicated to the patients, staff, and the community.
I live with my husband and sons in Mt. Pleasant. In my spare time, I enjoy golfing with my husband, gardening, and camping.
Tamara
I am a registered dental hygienist with an associate's degree in dental hygiene and applied science from Delta College. I became licensed in local anesthesia and nitrous oxide in 2006. I joined the Alma Heritage Dentistry team in 2016. My favorite part of my job is providing comfortable, thorough care to our patients and making them feel included and important as I care for them. We all take pride and great enjoyment in the quality dentistry we provide here at AHD.
I live in Midland and have a wonderful family that includes my two grown children and three pets. I love God, family, and several activities outside of work.
Tiffany
Tiffany joined our team in 2019 as a Registered Dental Hygienist. She completed her degree at Ferris State University, and has been in the dental field since 2006. Tiffany believes in creating relationships with her patients and helping them achieve the best oral health they can. She regularly takes continuing education courses to stay on top of the newest dental information and technology. Having an enjoyable dental experience is her number one goal, and is obtained with the amazing team of dentists and staff at Alma Heritage Dentistry.
Tiffany is native to Clare where she resides with her husband and 3 children. When she is not working she enjoys volunteering as a 4H leader, showing horses with her children, and camping on the weekends!